Why you should DIY essential oil spray
Well, why not? How much time have you spent in the grocery store aisle, smelling different room deodorizers, sprays, and plug-ins, only to find out two things, you didn't find a scent you really cared for and now you have a headache.
That leads me to the next reason as to why making your own essential oils sprays is a fantastic idea is, where did that headache actually come from?
Was it all the different scents or was it all the different chemicals? I sometimes combine four or five different essential oils in my diffuser, and the aroma never seems to bother me. But one spray of air freshener and my temples are pulsing and my nose burns.
Making your own sprays also gives you the freedom to create a variety of scents for your different needs and moods. You can customize sprays like lavender for bedtime or grapefruit and peppermint for the mornings. And because they are oils, the worry of breathing in anything toxic doesn't have to cross your mind.
What You Need to Make a DIY Essential Oil Spray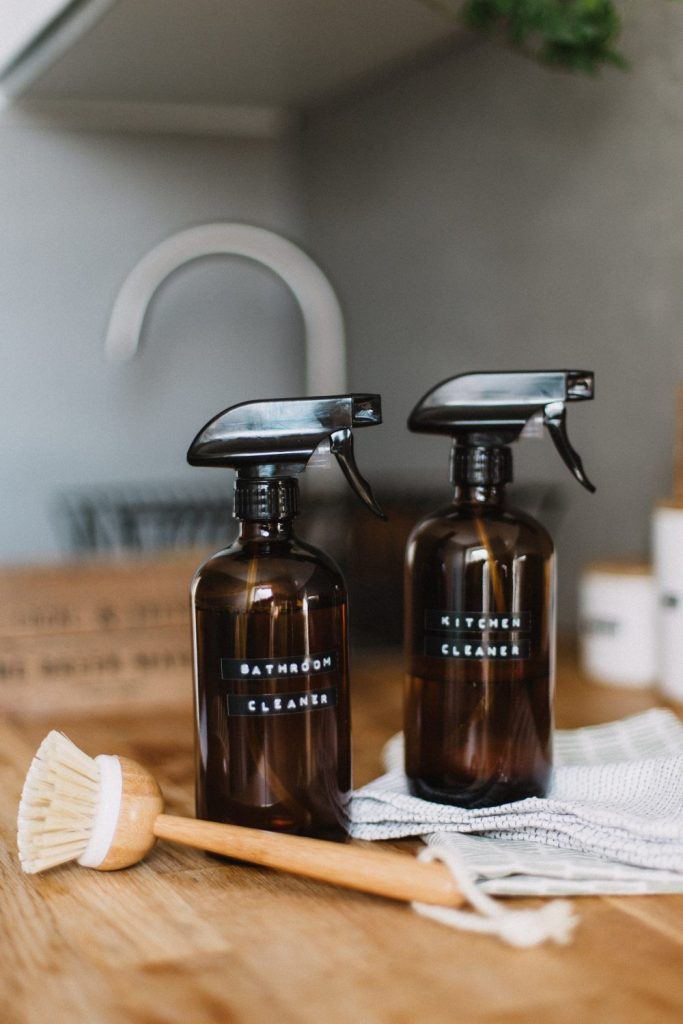 The materials needed for making your own spray are just a few and the how to make your own sprays are so easy, it makes a great DIY craft for you and your kids on a rainy day.
You can make your sprays with either distilled or filtered water or you can use witch hazel. Tap water may contain impurities that can impact the integrity of your oils. Witch hazel has properties that can help relieve skin of inflammation, irritation, help fight acne and provide skin protection.
If distilled or filtered water is unavailable, just boil tap water for 20 minutes and allow it to cool before making your sprays.
Aside from your oils and choice of dilution solution, all you need is a few small, glass spray bottles.
Peppermint Essential Oil Spray
Peppermint spray is a versatile, single oil spray. Peppermint is considered a stimulant so until you are sure how it affects you, avoid using it before bed.
Ingredients
2 ounces of water/witch hazel
10-20 drops of peppermint
Note: The number of drops of peppermint oil is a personal preference. High-quality peppermint oil is quite powerful so less is definitely more. Start with less and add till you find what works for you.
Directions: Put your desired number of drops of peppermint oil and fill the rest of the bottle with your choice of either water or witch hazel. Shake well. Be sure to store out of direct sunlight and heat.
As a stimulant, it's a gentle yet effective way to wake yourself up in the morning. It's also a great body spray on your skin as a refresher after the gym. It can be sprayed in your mouth as a breath freshener as well as the back of the neck and temples for headaches caused by allergies, colds, or stress.
Purification Essential Oil Spray
Purification blend essential oil is a blend of oils that most reputable essential oil manufacturers carry. Young Living's blend consists of citronella, lavender, lemongrass, myrrh, rosemary, and tea tree oil. This blend helps purify the air in your home, car, or office.
Ingredients:
10-20 drops purification oil
1-ounce distilled water
1-ounce rubbing alcohol (or vodka)
This spray is helpful in the kitchen and bathroom to control odors as well as high traffic living spaces. With a growing boy and two dogs in our house, purification is used more often than it's not. Use to spray in shoes, litter boxes, and garbage cans.
Under the Weather Spray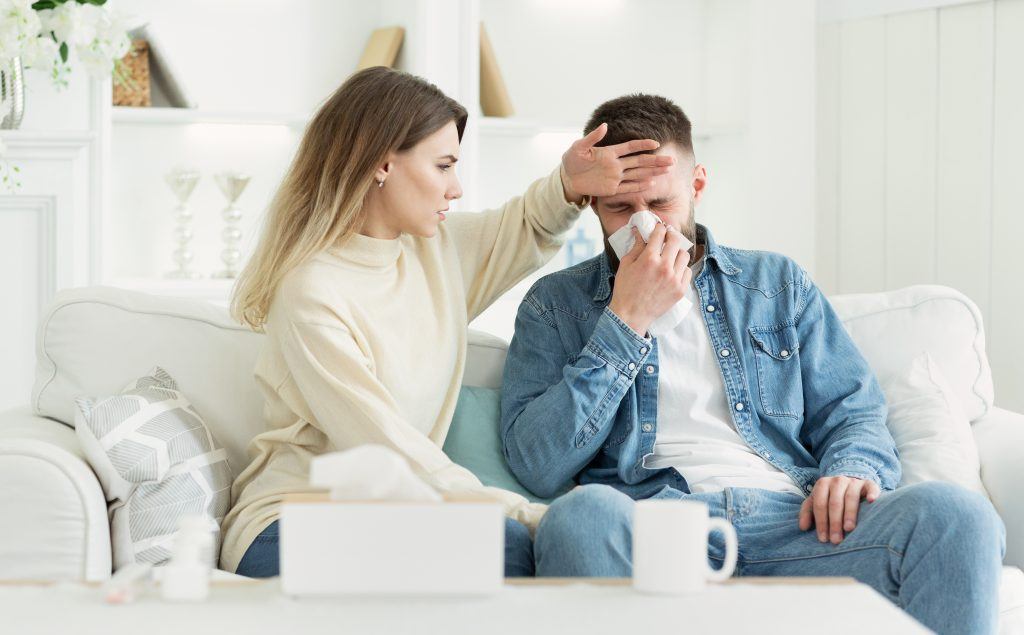 This is my absolute favorite spray for when anyone in the household that is sick. Young Living makes an oil called Thieves that has totally saved us from weeks of being sick.
Thieves essential oil blend is a powerful combination of clove, lemon, cinnamon bark, eucalyptus radiata, and rosemary essential oil.
10-20 drops of Thieves oil
1 ounce of distilled water
1 ounce of rubbing alcohol (or vodka)
Shake well and allow to sit for at least 15 minutes.
Spray on pillowcases and sheets before bed when illness has struck. If my son is sick, I will spray it on the bottom of his feet. Thieves aroma is quite strong so I am mindful where I spray it on him. For myself, I will spray it on my chest and arms to get the added benefits.
Side note – diffusing Thieves is a great way to keep it in the air at night for added exposure and benefits.
DIY Body Spray
A DIY body spray is great to have on the go and not as over-powering or as heavy as a cologne or perfume.
The ingredients for the following body spray are what I consider to be energy neutral meaning it does not smell too feminine or too masculine and anyone can wear it.
1 ounce of distilled water
½ ounce of witch hazel
½ ounce of vegetable glycerin (optional, does make the scent stay on the skin longer)
4 drops of grapefruit
Or
2 drops of lime and 2 drops of lemon (whichever citrus scent you prefer)
4 drops of peppermint
Alternative ingredient – If you are looking for more of cologne/perfume fragrance, add a couple of drops of sandalwood for a slight musk smell and to tone down the shocking notes of the citrus and peppermint.
Shake well before use. Spray three sprays into the air in front of you and walk through the mist. This prevents you from spraying oil directly onto your clothing.
Mosquito Repellant Spray
Spring and summer are my two favorite seasons. However, if there is a mosquito in the dead of winter, it will find me. For that reason, during our warmer months, an effective mosquito and bug repellant is absolute life for me or I simply cannot go outside.
Below is the recipe from Wellnessmama.com that I really like. The recipe calls for 100 total drops but don't let that scare you.
Because of the frequency, you will likely use on yourself and your family, it's just easier to make a bigger batch. Feel free to scale down the recipe if you want to make a smaller bottle.
I suggest using a 16-ounce glass spray bottle for this oil.
Ingredients
30 drops of citronella
30 drops of geranium
20 drops of lavender
20 drops of lemon
10 drops of rosemary
1 tablespoon rubbing alcohol or vodka
½ cup of witch hazel
½ cup of distilled water (or vinegar)
1 teaspoon of vegetable glycerin (optional but does make the spray last longer)
Place essential oils in a glass spray bottle. Add vodka or alcohol and shake well to combine.
Pour in witch hazel and shake to combine.
Add ½ tsp vegetable glycerin if using. This is not necessary but helps everything stay combined.
Add water and shake again. Shake before each use as the oils and water will naturally separate some over time.
Keep in the bathroom to spray on after showering and before getting dressed or keep by the door for a quick spray before heading outside.
It is not recommended to keep your car or anywhere the bottle is going to be exposed to high heat and direct sun.
Lavender Oil Spray
Lavender is that magical essential oil that seems to bring everyone to a place of calm and peace. So, you better believe I keep it near my bed, my son's bed and in the car!
Ingredients
1 ounce of distilled water
1 ounce of rubbing alcohol (or vodka)
10-20 drops of lavender
Add the drops, then the water, shake well to combine, and spray away!
I love this spray for pillowcases, blankets, and any stuffed animals that are ready to curl up for a restful night's sleep.
You can also make this spray with witch hazel to spray on your chest, abdomen, and arms before bed or any time you may be feeling an inner disturbance and need a mini-break for yourself.
This is also my go-to spray when we are having one of those afternoons where everyone could use a five-minute break to re-center ourselves, get grounded, and breathe.
Some of lavender's top properties such as antidepressant, relaxing, soothing, sedative, and antispasmodic make this an ideal spray for after school and during work. Always be mindful of what your spirit needs and don't be afraid to honor it with this organic, healthy little helper!
DIY Shower Spray
Essential oil sprays for cleaning are an excellent alternative to the harsh chemicals in most household cleaning products.
I have found a couple of different recipes that work and have people singing their praises.
Don't be afraid to try both as you never know what is going to work best depending on the type of material in your bathroom that you are cleaning as well as the water and products you are asking the cleaner to cut through.
1st Option
Soap Scum Remover
Ingredients
2 cups of hot water
¼ – ½ cup Borax
8-10 drops of lemon essential oil
Add ingredients to a spray bottle and shake well. Spray windows, bath, or mirrors and wipe dry. Store in a cool dry place for 1-2 months.
2nd Option
Ingredients
½ cup rubbing alcohol
1 cup water
8-10 drops peppermint essential oil
Mix and store in a spray bottle. Spray shower or tub after bathing. As an added benefit you can squeegee after your shower to prevent water spots.
Essential Oil Linen Spray
You can use the lavender spray from above for your linens if you want something simple before bed. Below is an alternative linen spray that has a fresh scent for all of your laundry!
Like the bug repellant recipe, this is a larger batch of essential oil spray because you are going to be using it on a higher volume of items and you don't want to have to make it every time you do laundry.
Ingredients
24 drops of lavender
36 drops of lemon
30 drops of fir
30 drops of cypress
1 tablespoon vodka (or rubbing alcohol)
Filtered or distilled water
Put all essential oils in the bottle, followed by the alcohol and fill the remainder of the bottle with water and shake well.
Use this linen spray on laundered towels, sheets, and bathmats. This is also great for when the weather changes and you have to get your seasonal clothes out. While they are clean and don't warrant washing, this spray is great for freshening up clothes that have been stored away.
Important Note for Sprays
If you are truly wanting the most out of your sprays, once you make your initial spray, allow it to sit for a minimum of 15 minutes to two hours. However, several essential oil pros recommend waiting 24 hours for your oils to fully integrate with the water and emulsifier.
How many drops of essential oil in 15 mL of water?
The number of drops you use in 15 mL of water is mostly up to you. It depends on the strength of the oil that you want. However, in general, 8-10 drops of essential oil per 15 mL of distilled water is a solid rule of thumb. A little more or a little less is completely up to you.
How do you dilute essential oils?
Diluting your essential oils is something you will want to do in an effort to maximize each drop of your favorite oils.
High-quality oils are so concentrated that, depending on which oil you are using, you won't want the full concentration particularly if you are applying it to your skin.
Undiluted oils applied to the skin increase the risk of skin irritations and can be too powerful and even uncomfortable to be applied straight, particularly oils in the mint family.
Using an emulsifier with your oils is something you will want to do in order to get the most bang for your buck as well as the most benefits out of your oils.
How do I emulsify essential oils?
I won't give you a whole science lesson about emulsification but most of us know that oil and water don't mix together and stay together in a stable state. The oil always floats to the top which can leave you spraying mostly water around the house.
You typically need an emulsifier when you are making sprays. A high alcohol content such as rubbing alcohol or vodka is an inexpensive emulsifier to use for your room sprays. Witch hazel is my go-to emulsifier because of the added benefits for my skin.
However, when making room sprays, I find rubbing alcohol works just as well. Vodka or high grain alcohol is another option.
You do not need to use an emulsifier when you are using a carrier oil such as coconut oil, or grapeseed oil, or any other fat.
Why glass bottles over plastic spray bottles?
Plastic is known for leaching chemicals as well as absorbing oils and smells. This creates the potential for damaging the integrity, and benefits of essential oils.
Glass bottles preserve the integrity of the oils and the darker colored glass bottles (like blue or brown) help protect the oils from heat and light that are also contributors to the breaking down of essential oil properties.
It is recommended that you always use glass when making your own essential oil sprays.
Can you make DIY spray bottles at home?
You can make your own DIY glass spray bottles at home and it isn't too difficult.
First, take any glass bottle such as your apple cider vinegar, a Perrier bottle, or a glass condiment bottle that you have thoroughly washed.
Next, find an old spray bottle whose neck size and threads are the same size as your glass bottle, from under your kitchen sink from an old cleaner, and wash it thoroughly with soap.
Once you have determined the sprayer fits the neck of your bottle, you can continue with creating the spray that your heart desires.
Most of the bottles you have will be larger than what is necessary and that's okay. Don't feel like you have to fill the bottle.
My recommendation is to start small, even if you are making a bug repellant, linen spray, or shower spray. Find out what works for you first before using all of your precious oils!