If you're here reading this, we already know you LOVE essential oils!
We can diffuse them, apply them, and we can even wear them!
Essential oils are the greatest when we are in the comfort of our own homes. But what about when we are on the go?
Bringing your essential oils with you on the go isn't always a great idea since they can leak, and possibly ruin your bag or backpack.
We also never want to waste our favorite essential oils. This is where diffuser necklaces come in to save the day!
Essential Oil Abuse No More!
In this article, you will read and learn about aromatherapy jewelry and how important it is to maintain our well-being throughout our busy day, and how jewelry can help.
You will discover the different types of necklaces and materials used to hold onto those precious, healing fragrances throughout your day. You will be given plenty of options so picking a necklace for your lifestyle and needs has been made easy.
What are Essential Oil Diffuser Necklaces?
Pendant Necklaces
The essential oil necklaces usually come in a pendant-style necklace that opens and closes just like a locket. However, instead of an old-school picture being tucked away, there is an essential oils pad!
The pendants come in all shapes and sizes, it is a matter of personal preference.
How They Work
The way the pendants work is like this. Within each pendant is a type of pad used to hold the oil.
The pads are typically made from cotton, felt, wool or leather. Some people also use the pompoms from the local craft store.
Use High Quality Material
Now there is no right or wrong pad to use but there is a difference in how long each material holds on to the scent of the oil.
Many people choose pompoms because they are the least expensive pads to purchase. And while we are all about saving money, buying cheap pads isn't the place to do it, and here's why.
The cheaper the pad, the more oil you are going to use. Synthetic materials, such as the pompoms, will not hold onto the oil. The textile is not porous therefore not absorbing the actual oil which mostly evaporates.
High-quality cotton or thick wool is a better choice while leather is the optimum choice. With both cotton and leather, you are pretty much committed to that scent on that particular piece of cotton/leather. So, make sure to pick your favorite essential oil since the scent will linger for a while!
Bead Necklaces
The other type of aromatherapy diffuser necklace material used to hold oil is rocks.
No, not the rocks from your yard! but lava beads, terracotta, and other clay beads.
These are highly porous and absorb the oils throughout. The clay in the lava/terracotta holds on to the scent for a decent period of time depending on the concentration of the oil and how much.
You have the option to soak the beads in oil if you are wanting a stronger scent throughout the day or you can add just a few drops on your way out the door.
Types of Aromatherapy Necklaces
There are many types of materials used to hold onto the sweet smell of your healing oils.
So, let's get started by looking at four different types of necklaces.
This beautiful necklace is a sweet, simple way to wear your oils. The stainless-steel chain and pendant come with a couple of different colored lava beads that do not fade in color over time.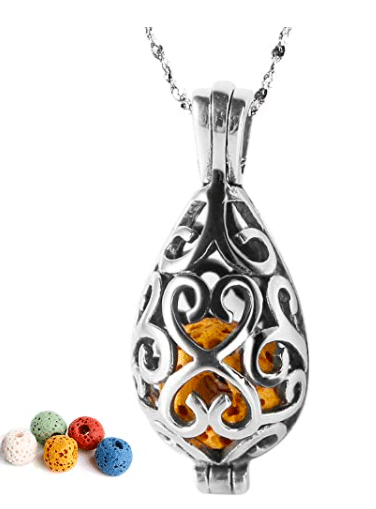 The stainless-steel chain and cage are perfect materials for avoiding allergic reactions and potential tarnishing against any oils with higher acidity.
The necklace is light and dainty enough it would be a perfect gift idea for someone who does not care for big, bulky, heavy jewelry.
Each lava bead fits perfectly into a polished, filigree crafted cage catching all the light while emitting all the scents.
This is one of our favorite necklaces; minimal, modern, adjustable, and affordable.
This necklace comes with an 18K gold plated chain and a single natural lava stone in the center.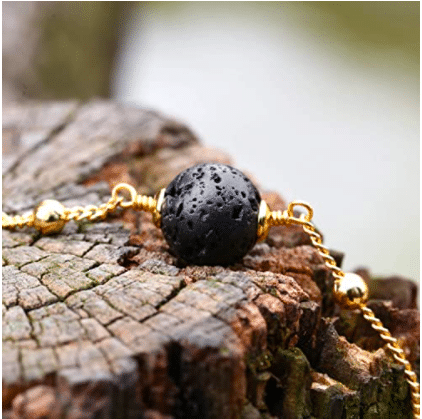 Simply add 1-2 drops of your favorite essential oil or essential oil blend and enjoy the scent all day long!
One thing to note is that since this is a plated gold chain there is the likelihood of tarnishing especially with prolonged wear and if you wear the necklace while swimming or showering.
This is necklace is a common type of aromatherapy necklace.
Many prefer this type of pendant for a couple of reasons.
One, it lies flat on the chest. For many essential oil users, this is a selling point as some people don't like the movement of necklaces on the chest.
Two, it comes with 16 different synthetic pads and an adjustable chain. This makes for a perfect gift as whoever you give it to has the option to adjust the length and pick the color.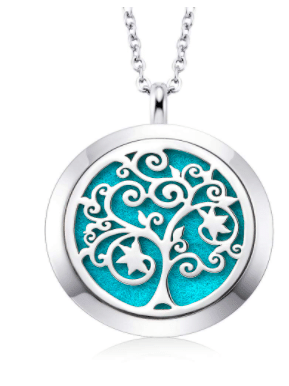 The pads it comes with are washable and reusable and oh so colorful, allowing you to make your necklace match what you're wearing.
Three, it has the sweetest message of encouragement on the back. Adding encouraging words to the healing properties of essential oils and you have a necklace that screams, "I CARE ABOUT YOU!" Oh, and it comes with a gift bag.
This essential oil diffuser necklace is made of surgical grade stainless steel with the bar pendant at 1 ¾ inch long with a 24″ chain that is not adjustable in length.
The unique feature of this necklace aside from the cylindrical style bar, this necklace is different from the diffuser jewelry in that there is no stone or pad for the oil to absorb into.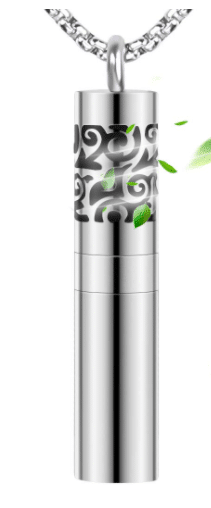 The way this necklace works is with just oil. The easy-to-use container allows you to add your favorite oils while the beautifully crafted aerated upper portion of the pendant allows your oil scents to flow freely throughout the day.
This all but eliminates the need to repeatedly add oil to the necklace which is can be necessary with the necklaces containing pads or beads.
Common Questions
Can diffuser necklaces leak?
Yes, some diffuser necklaces can leak. If the container is anything but upright, you're going to lose your oil.
What are lava bead necklaces?
Lava beads are igneous, basalt rocks made from magma when a volcano erupts. They are a porous material making them an optimum material for the absorption of essential oils.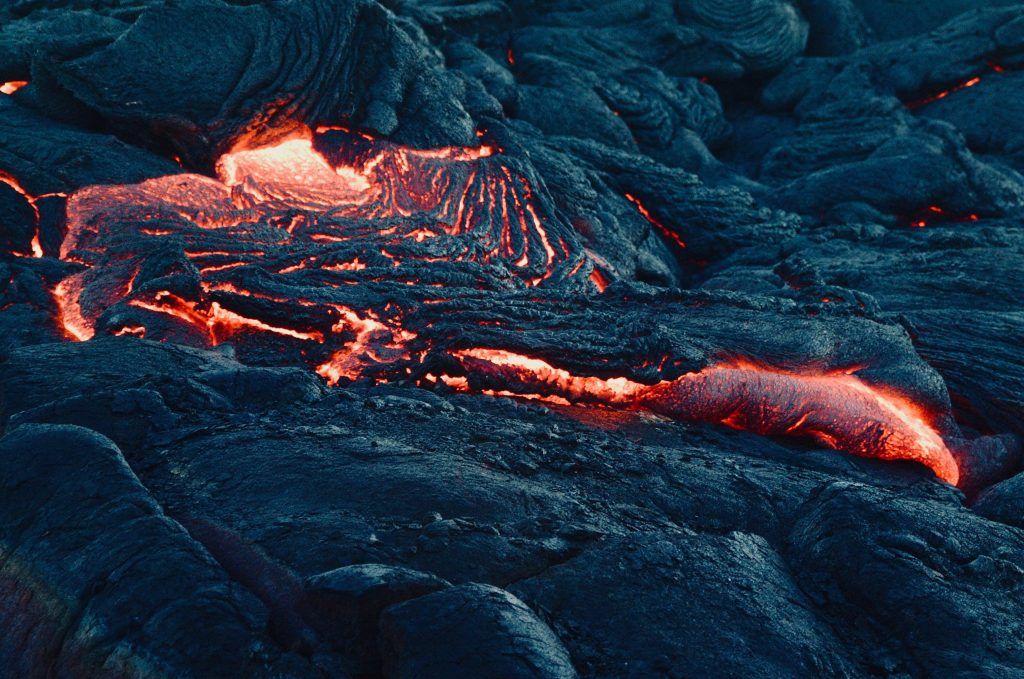 Natural lava rocks are typically brown to black in color. Some lava rock beads produced for the purpose of essential oil necklaces have been colored. Because lava rocks are so porous and they hold oil so well, depending on the concentration of oil and type of oil you choose, the lava beads can diffuse your oil for six to eight hours, sometimes longer!
Essential Oil Necklace Wrap Up
Whichever necklace you decide to pick, exposing yourself to a constant stream of essential oils is a fantastic, creative way to bring more peace and calm into your day and into your life.
If you choose one of these necklaces and have had an experience or thoughts and would like to share, I would love to hear from you.
Happy accessorizing and diffusing friend!